"Brand Swapping"
- a small content strategy that's getting HUGE results.
Brand Swapping is as simple as it sounds.
You take a keyword phrase like "Yamaha dirt bike won't start" and you write the absolute best piece of content out there for that keyword.
(use YouTube for nearly all your research. It's massively underutilized in the blogging world)
Once you've crafted the perfect post and hit publish, create a list of the top dirt bike brands.
1. Suzuki
2. Honda
3. Kawasaki
4. KTM
5. Bultaco
6. Beta
7. Husqvarna
8. Sherco
And so on…
Do a "Find and Replace" on the "Yamaha dirt bike won't start" post, and swap "Yamaha" for "Suzuki".
Now research "Suzuki dirt bike won't start".
What you'll likely discover is that 80-90% of the content you wrote for Yamaha dirt bikes not starting is applicable to Suzuki!
Now the key here is to make sure the 10-20% difference is added to your Suzuki post.
Maybe Suzuki dirt bikes have a common problem with the clutch getting stuck? Make sure you cover it!
But as it turns out, there are a handful of things you should ALWAYS try any time your dirt bike won't start, regardless of the brand.
This is great for you because it means you can reuse this content, word-for-word, over and over again.
In this example of Brand Swapping, 1 post turned into 13. 80-90% of the posts are word-for-word identical.
Over the past 30 days, these 13 posts brought in 50,812 pageviews to the blog and earned $2,474.03 (The post titles below are made up, but the data is all real)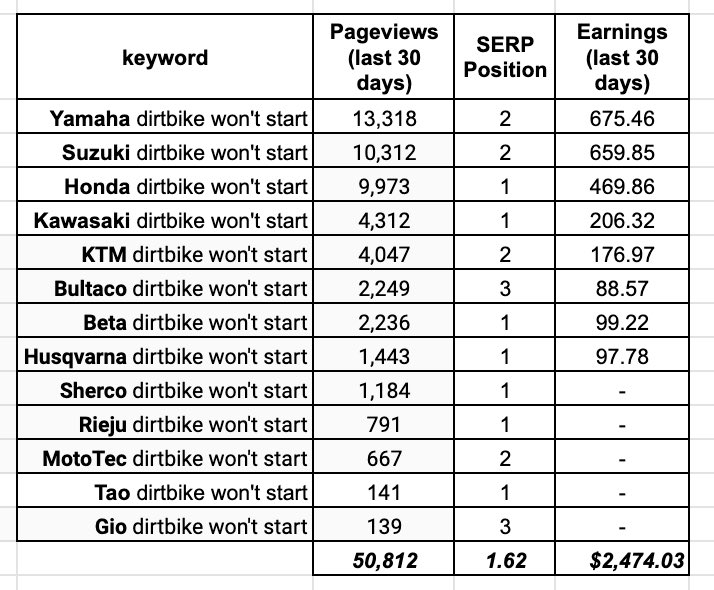 Here is another example:
In this case, it only made sense to Brand Swap this particular post with one other brand. These two posts are ~95% identical. Nearly carbon copies of one another. Both ranking number 1.

If you've read anything about SEO over the past few years then you're probably wondering, "isn't this duplicate content", and won't be penalized for it?…
"It's not that we would demote your website or penalize the website in any way because it has duplicate content"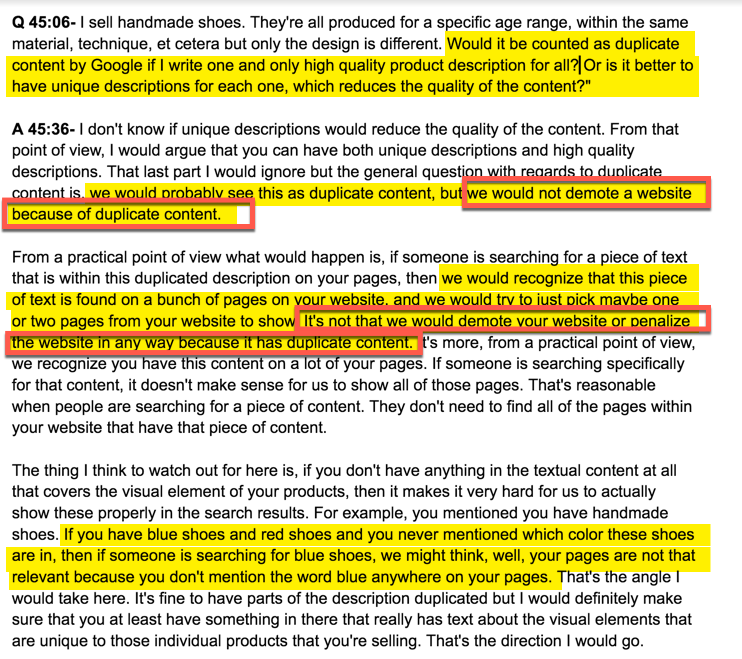 It sounds like even if Google eventually considered what is described here as Brand Swapping, as "duplicate content", your site wouldn't be demoted for it. But why would they?
The content is accurate, and it matches the exact search intent.

Note:
the more content you have in a particular topic cluster, the more overlap starts to happen. Embrace it! I copy and paste entire sections of previous posts, whenever it makes sense.
Would love to have a discussion on this.